Products >

Plain bearings
Spherical plain bearings


Radial spherical plain bearing consists of an inner ring with a sphere convex outside surface and outer ring with a correspondingly sphere but concave surface. There are two main groups: steel-on-steel spherical plain bearings and maintenance-free spherical plain bearings.

Dry sliding bearings


Dry sliding bearings are made up of a sheet steel backing to which a porous layer of tin bronze is sintered. These products are available as bushes, flanged bushes, thrust washers and strips. They are very small radial or axial sections, and have good sliding characteristics and high resistance to chemicals.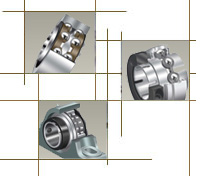 Tel : +86-760-88297638
Fax: +86-760-88297639
E-mail:tech @ tcbbearing.com
Add:No.7.Yixian RD,Torch Zone, Zhong shan,Guangdong,China